Responsible
Junk Removal.

Junk Eco offers the best Cannon Falls
junk removal / hauling / recycling service.

Email junkeco@gmail.com or
Call 612-356-2233 to get started!
Junk Eco Offers Professional Cannon Falls, MN Junk Removal Services
Cannon Falls is described as a scenic riverside community offering a wide variety of recreation and relaxation. It has the kind of 'home town' service and hospitality that makes you want to return again and again. (cannonfalls.org website).

We strive to embody that spirit of hospitality in our work as well. Whether you have a full truck of junk or just a fraction - we will provide friendly service and clear results. Our Angie's List rating is perfect - all 'A's across the board.

Our services were crafted by Minnesota residents for Minnesota residents - we aren't a franchise, so pay no franchise fees. We'll pass the savings on to you. Our team members are friendly, and will work hard to assure your junk removal project is done right.

Call us today at 612-356-2233 to get a free quote!

>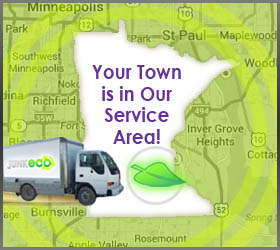 Click for Details About What We Haul:
Cannon Falls, MN furniture removal
Cannon Falls, MN appliance removal
Cannon Falls, MN couch removal
Cannon Falls, MN electronics removal
Cannon Falls, MN mattress removal
Cannon Falls, MN bed removal
Cannon Falls, MN sofa removal
Cannon Falls, MN refrigerator removal
Cannon Falls, MN scrap metal removal
Cannon Falls, MN desk removal
Cannon Falls, MN rubbish removal
Cannon Falls, MN cardboard removal
Cannon Falls, MN patio furniture removal
Cannon Falls, MN estate sale junk removal
Cannon Falls, MN junk hauling - items we take